Today, November 17, 2023, during the Awards Ceremony at the Federal Palace in Berne, this year's Balzan Prizes were presented to:
■ David Damrosch for World Literature,
■ Jean-Jacques Hublin for Human Evolution: Palaeoanthropology,
■ Eske Willerslev for Human Evolution: Ancient DNA and Human Evolution,
■ Heino Falcke for High-resolution Images: from Planetary to Cosmic Objects,
■ Francesca Rava Foundation for Humanity, Peace, and Fraternity among Peoples.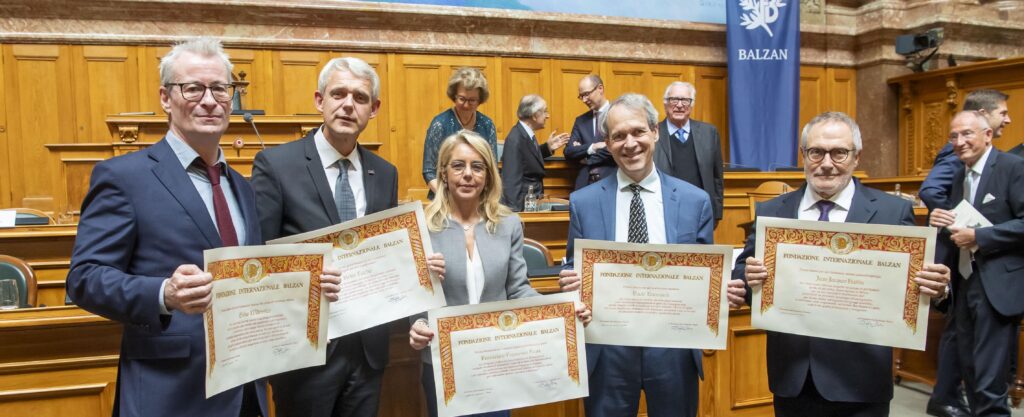 In the presence of the President of the National Council of the Swiss Confederation Martin Candinas, the parchments were presented to the 2023 Prizewinners; the Presidents of the Balzan Foundation "Prize" and "Fund", Alberto Quadrio Curzio and Gisèle Girgis-Musy, delivered the official speeches.
In accordance with the ceremony's usual formalities, each Prizewinner gave a speech of acceptance and thanks after being introduced by the Chairman of the General Prize Committee, Luciano Maiani.
The International Balzan Foundation awarded 750,000 Swiss Francs (approx. EUR 780,000; USD 840,000; GBP 680,000) for each annual prize. The winners are each required to allocate half of their prize money to funding research projects carried out by young scholars or scientists in their respective fields.
The Balzan Prize for Humanity, Peace, and Fraternity among Peoples is a special prize awarded at intervals of no less than three years. This year's award is worth 750,000 Swiss francs.
The Ceremony was preceded, on Thursday 16 November, by the Balzan 2023 Prizewinners Interdisciplinary Forum, a public event dedicated to the Balzan Prize subject areas for the current year, with the Prizewinners playing the prominent role.