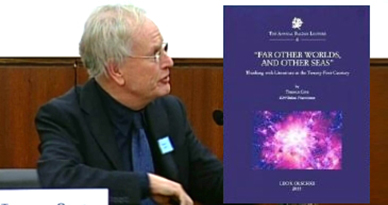 The publishing house Leo S. Olschki of Florence has published the Annual Balzan Lecture delivered by Terence Cave, 2009 Balzan Prize for Literature since 1500, at the University of Berne on 17 October 2014.
Entitled Far Other Worlds and Other Seas. Thinking with Literature in the Twenty-first Century, the volume is in English, and is the sixth of the series of Annual Balzan Lectures. It can be purchased through Olschki's sales networks.
After outlining a general perspective within which the work of the interdisciplinary Balzan research project 'Literature as an Object of Knowledge' (St. John's College Research Centre, Oxford, 2010-2013) has taken shape, Cave considers some of the problems encountered, in particular the relation between literary study and cognitive science. The lecture then focuses on literary texts, applying cognitive approaches to offer a new perspective on the material out of which literature is made.
Simplified version for www.balzan.org: thanks to the publisher Leo S. Olschki