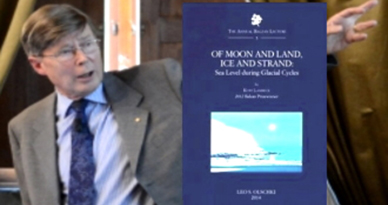 The publishing house Leo S. Olschki of Florence has published the Annual Balzan Lecture delivered by Kurt Lambeck, 2012 Balzan Prize for Solid Earth Sciences, at the Accademia Nazionale dei Lincei on 20 September 2013. Entitled Of Moon and Land, Ice and Strand. Sea Level during Glacial Cycles, the volume is in English, and is the fifth of the series of Annual Balzan Lectures.
It can be purchased throughOlschki's sales networks.
Professor Emeritus at the Research School of Earth Sciences at Australian National University (Canberra), Lambeck's theoretical and observational approaches address fundamental questions relating to our planet. His findings on the solid earth have revolutionized crucial concepts in the geosciences, adopting an interdisciplinary outlook ranging from geodetics to geology, geophysics, oceanography and paleoclimatology. His books are essential for students and researchers in terrestrial geodynamics.
Simplified version for www.balzan.org: thanks to the publisher Leo S. Olschki