Today, during the Awards Ceremony at the Federal Palace in Berne, this year's Balzan Prizes were presented to:

Giorgio Buccellati and Marilyn Kelly Buccellati for Art and Archaeology of the Ancient Near East;
Alessandra Buonanno and Thibault Damour for Gravitation: Physical and Astrophysical Aspects;
Saul Friedländer for Holocaust and Genocide Studies;
Jeffrey Gordon for Microbiome in Health and Disease.
In the presence of the President of the National Council of the Swiss Confederation Irène Kälin, the parchments were presented to the 2021 Prizewinners. The Presidents of the Balzan Foundation "Prize" and "Fund", Alberto Quadrio Curzio and Gisèle Girgis-Musy, delivered the official speeches.
In accordance with the ceremony's usual formalities, each Prizewinner gave a speech of acceptance and thanks after being introduced by the Chairman of the General Prize Committee, Luciano Maiani.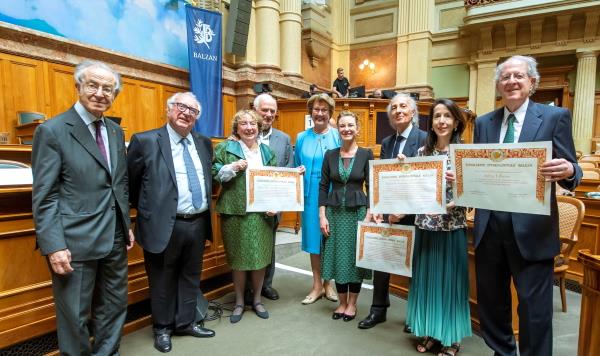 The International Balzan Foundation awarded 750,000 Swiss Francs (approx. EUR 745,000; USD 780,000; GBP 640,000) for each prize. The winners are each required to allocate half of their prize money to funding research projects carried out by young scholars or scientists in their respective fields.
The Ceremony was preceded, on Thursday 30 June, by the Balzan Prizewinners Interdisciplinary Forum, a public event dedicated to the Balzan Prize subject areas for the current year, with the Prizewinners playing the prominent role.
Booklet ▼